Ready, steady, go!!!
Every summer, the long-awaited jump into the sea is at first an overcoming, followed by relief, redemption and pure joie de vivre. For some, it is the lake or the river, for others the sea that finally heralds the summer season. Of course, there are also those of us who prefer to watch the spectacle from the side and leave the terrain to the water lovers. But it is safe to say that most of us are drawn to water in some way, or at least feel comfortable around it. Why is that? The human organism consists of about 80% water (depending on age)?), so maybe that's the secret? Whatever drives you to swim, we'd like to share with you our 3 favorite bathing spots in Zurich. Ready? Let's go!
1. Flussbad Au-Höngg
As a teenager, I often spent my summers by a muddy ship canal, jumping off the bridge with friends and hoping the next impact would be less painful. The water was murky, almost brown, and only cleared up a little on Sundays when shipping traffic was interrupted for a day. Today, many years later, I found a new bathing highlight: the Flussbad Au-Höngg in Zurich. If you're looking to cool off on a hot summer day, you'll definitely find it here. The water is cold, in May and June almost ice-cold for my taste. The river current is always a fun adventure, evoking a feeling of carefree childhood and long summer days. With an entrance and and exit on both ends of the river pool, people watching is being made easy, adding additional entertainment to your day out. While you're usually still spoilt for choice in the morning, the best seats are quickly snapped up in the afternoon. The culinary highlights, currywurst and chips at the local snack van, make the bathing experience at the Flussbad Au-Höngg finally a return to childhood days.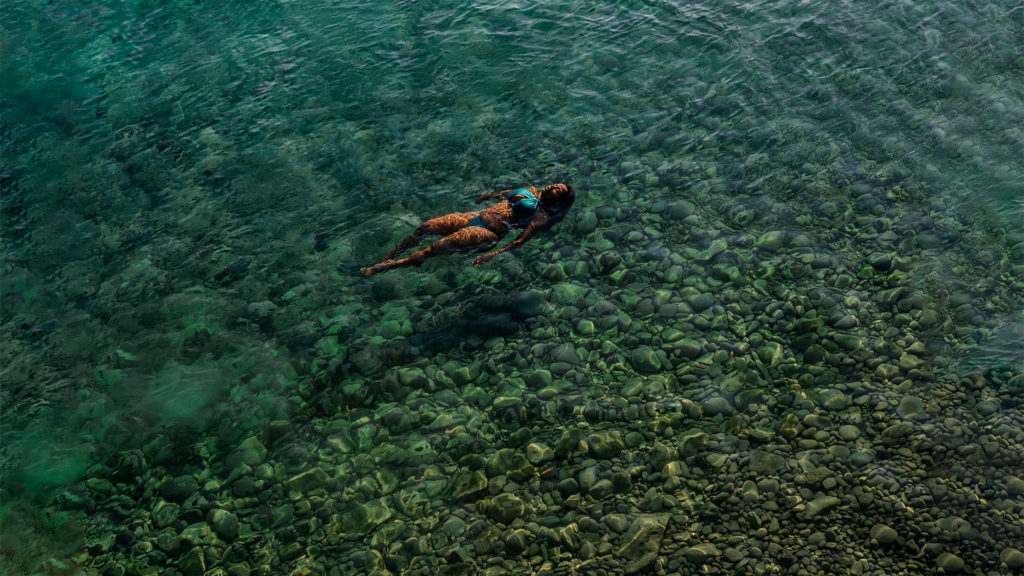 ---
2.Mönchhof am See – Kilchberg
Located directly on the lakeside road, the Mönchhof offers a combination of harbour and beer garden atmosphere at its best, especially in the summer months. Although when you hear the word harbour, you should rather think of a small landing stage for local sailors and motorboat drivers than a yacht harbour. While the Mönchhof is a good place to go for cool drinks, tasty grilled food or fresh salads, the adjoining meadows offer a bathing and picnic panorama for young and old. The atmosphere is relaxed, there is usually plenty or space available and Lake Zurich is always within reach by jumping from the wedge wall or (for those who prefer it more relaxed) via a staircase. Easy accessibility, the clear and refreshing waters of Lake Zurich and the idyllic atmosphere make the Unterer Mönchhof complex one of our favorite places for balmy summer evenings in Zurich.
---
3. Lakeside path Wädenswil
Our last bathing spot is particularly suitable for cyclists and for those who prefer to relax away from the larger sunbathing areas. The lakeshore in Wädenswil can of course also be reached by public transport, but even better by bike, coming from Zurich along the Seestrasse. You'll find several small bathing spots along the shore, but we recommend that you only stop when you discover a small lookout tower directly on the lakeshore. This may not sound like a very precise description (and it's not), but a little spirit of discovery never hurts, right? When you arrive at your destination, you'll find a small gravel beach, almost turquoise-blue water in the midday sun and, depending on the day and time, very few people. So if you like stone beaches, clear water, romantic sunrises (see photo) and your bike, a tour along the lakeshore is just the right choice.